A TOOTHBRUSH THAT'S ACTUALLY
HYGIENIC
.
NOAA Marine Debris Program, CC BY 2.0
TAKING OUT THE TRASH.

While straws get a lot of the publicity for ocean flotsam, discarded toothbrushes are possibly an even bigger environmental impactor. Intended to be disposable, toothbrushes are used for a few months and then discarded; living out centuries in landfills (as a best case scenario). Most of us also don't replace our toothbrushes as much as we should, leading to a plethora of hygienic issues.

So, we designed a toothbrush that's actually hygienic.










Nada — like magic
.


Incredibly convenient. Impossibly clean. Zero plastic waste.




Made for life
,

not landfill

Ditch the disposable. Switch to Nada—an aluminum handle you keep, and toothbrush heads they recycle.
Clean teeth start with a clean toothbrush

Nada rinses clean, lays flat and won't roll over. Hello clean teeth, so long bathroom yuckies.
Less shopping
,

more smiling

Cross toothbrush off your list—forever. Nada delivers fresh brush heads every year and reminds you to replace them every 3 months.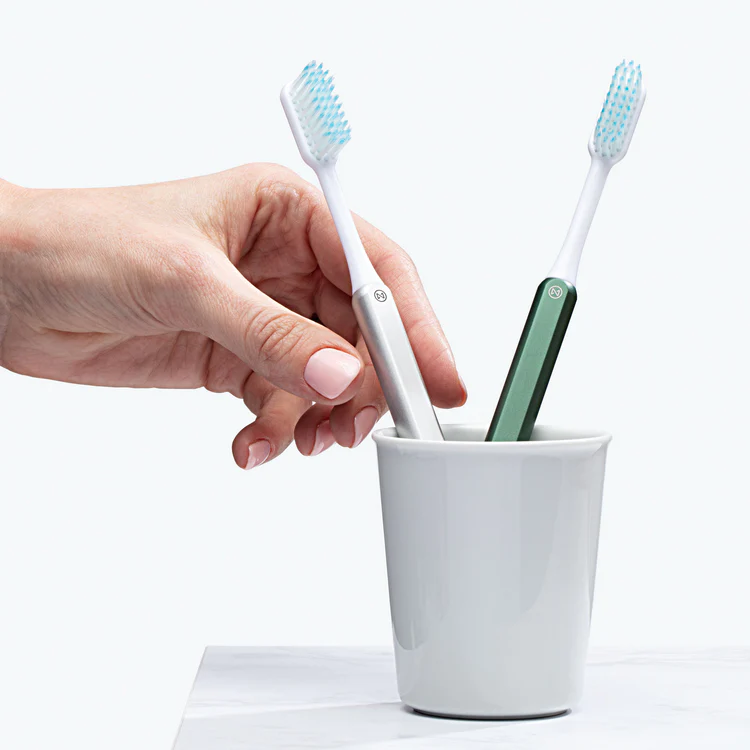 ---
We respectfully acknowledge and honour that ANCORD Design Co sits upon the traditional unceded territories of the Lekwungen and W̱SÁNEĆ peoples of the Coast Salish Nations.
PRIVACY